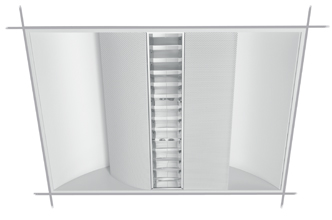 Recessed luminaire with parabolic louvre for TC-L and T5 lamps with direct asymmetric light distribution.
Lamp shield on one side is bended, on another side is straight – one half of the luminaire is acting as a wallwasher and emphasize illumination on vertical surfaces. Orientation of straight shade towards the wall, other fixtures in the middle of the room complemented from SOFT VL range.   
Light sources are covered with shades made of solid or perforated sheet steel, easy and tool free lamp replacement. Housing of luminaire is made of sheet steel of thickness 0,6mm. Standard surface treatment – white powder coated colour (RAL 9003).
INSTALLATION TYPE
• RT600 (recessed) – recessed luminaire, ceiling with visible T-profile, module 600×600
• R – recessed luminaire, plasterboard ceilings
OPTICAL SYSTEM
• PSL (parabolic specular louvre) – polished, anodized, aluminium, double parabolic louvre with glare prevention
• PML (parabolic matt louvre) – matt, anodized, aluminium, double parabolic louvre 
• L1 – double parabolic louvre optimized for one T5 lamp
• L2 – double parabolic louvre optimized for two T5 lamps
• P – lamp shade made of perforated sheet steel, with included diffuse foil 
ELECTRICAL EQUIPMENT
•  electronic control gear for fluorescent lamps TC-L/T5
• lamp holders 2G11/G5
• 3-pole screwless terminal block with strain relief, max. 2,5mm2
• cable opening entry completed with cable gland
• through wiring possibility
OPTIONAL EQUIPMENT/ACCESSORIES
• lamps included in luminaire
• wired with emergency unit (1 or 3h)
• wired with multi-watt control gear
• wired with dimmable control gear (DIM 1-10V, DSI or DALI)
• fast connector (Wieland, Wago, Isodom)
SPECIFICATION
| | | | | |
| --- | --- | --- | --- | --- |
| Type | A (mm) | B (mm) | H (mm) | kg |
| SOFT AL1 RT600 TC-L 1x40W | 595 | 595 | 101 | 4,7 |
| SOFT AL1 RT600 TC-L 1x55W | 595 | 595 | 101 | 4,7 |
| SOFT AL1 RT600 T5 3x14W | 595 | 595 | 101 | 4,7 |
| SOFT AL1 RT600 T5 3x24W | 595 | 595 | 101 | 4,7 |
| SOFT AL1 RT600 T5 3x28W | 1195 | 595 | 101 | 9,1 |
| SOFT AL1 RT600 T5 3x54W | 1195 | 595 | 101 | 9,1 |
| SOFT AL2 RT600 T5 2x14W | 595 | 595 | 101 | 4,7 |
| SOFT AL2 RT600 T5 2x24W | 595 | 595 | 101 | 4,7 |
| SOFT AL2 RT600 T5 2x28W | 1195 | 595 | 101 | 9,1 |
| SOFT AL2 RT600 T5 2x54W | 1195 | 595 | 101 | 9,1 |
| | |
| --- | --- |
| Code | Type |
| SO5PRT60TCL1040 | SOFT AL1 RT600 TC-L 1x40W |
| SO5PRT60TCL1055 | SOFT AL1 RT600 TC-L 1x55W |
| SO5PRT600T53014 | SOFT AL1 RT600 T5 3x14W |
| SO5PRT600T53024 | SOFT AL1 RT600 T5 3x24W |
| SO5PRT600T53028 | SOFT AL1 RT600 T5 3x28W |
| SO5PRT600T53054 | SOFT AL1 RT600 T5 3x54W |
| SO6PRT600T52014 | SOFT AL2 RT600 T5 2x14W |
| SO6PRT600T52024 | SOFT AL2 RT600 T5 2x24W |
| SO6PRT600T52028 | SOFT AL2 RT600 T5 2x28W |
| SO6PRT600T52054 | SOFT AL2 RT600 T5 2x54W |
| | | | | | | | | | | |
| --- | --- | --- | --- | --- | --- | --- | --- | --- | --- | --- |
| Control gear |   | Optics |   | Colour |   | Lamp |   | Emergency unit |   | Accessories |
|   |   |   |   |   |   |   |   |   |   |   |
| ECG |   | PSL |   | RAL 9003 |   | 40W/827 |   | M 3h |   | Wieland 3p |
| DIM 1-10V |   | PML |   |   |   | 40W/830 |   |   |   | Wago  3p |
| DSI |   |   |   |   |   | 40W/840 |   |   |   | Isodom |
| DALI |   |   |   |   |   | 40W/865 |   |   |   |   |
|   |   |   |   |   |   | 40W/954 |   |   |   |   |
|   |   |   |   |   |   | 55W/827 |   |   |   |   |
|   |   |   |   |   |   | 55W/830 |   |   |   |   |
|   |   |   |   |   |   | 55W/840 |   |   |   |   |
|   |   |   |   |   |   | 55W/865 |   |   |   |   |
|   |   |   |   |   |   | 55W/930 |   |   |   |   |
|   |   |   |   |   |   | 55W/940 |   |   |   |   |
|   |   |   |   |   |   | 55W/954 |   |   |   |   |
|   |   |   |   |   |   | 14W/827 |   |   |   |   |
|   |   |   |   |   |   | 14W/830 |   |   |   |   |
|   |   |   |   |   |   | 14W/835 |   |   |   |   |
|   |   |   |   |   |   | 14W/840 |   |   |   |   |
|   |   |   |   |   |   | 14W/865 |   |   |   |   |
|   |   |   |   |   |   | 24W/827 |   |   |   |   |
|   |   |   |   |   |   | 24W/830 |   |   |   |   |
|   |   |   |   |   |   | 24W/835 |   |   |   |   |
|   |   |   |   |   |   | 24W/840 |   |   |   |   |
|   |   |   |   |   |   | 24W/865 |   |   |   |   |
|   |   |   |   |   |   | 24W/880 |   |   |   |   |
|   |   |   |   |   |   | 24W/940 |   |   |   |   |
|   |   |   |   |   |   | 24W/965 |   |   |   |   |
|   |   |   |   |   |   | 28W/827 |   |   |   |   |
|   |   |   |   |   |   | 28W/830 |   |   |   |   |
|   |   |   |   |   |   | 28W/835 |   |   |   |   |
|   |   |   |   |   |   | 28W/840 |   |   |   |   |
|   |   |   |   |   |   | 28W/865 |   |   |   |   |
|   |   |   |   |   |   | 54W/827 |   |   |   |   |
|   |   |   |   |   |   | 54W/830 |   |   |   |   |
|   |   |   |   |   |   | 54W/835 |   |   |   |   |
|   |   |   |   |   |   | 54W/840 |   |   |   |   |
|   |   |   |   |   |   | 54W/865 |   |   |   |   |
|   |   |   |   |   |   | 54W/880 |   |   |   |   |
|   |   |   |   |   |   | 54W/940 |   |   |   |   |
|   |   |   |   |   |   | 54W/965 |   |   |   |   |