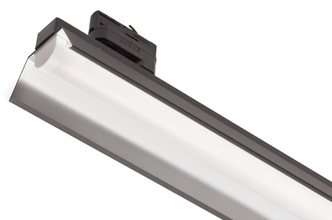 Simple luminaire with functional design, designed to provide general illumination in wide range of interior applications. Although it´s look reminds older fluorescent relatives, it is equipped with last generation of linear LED modules, that are covered with frosted diffuser. Diffuser not only protect LED boards from direct touch, it also helps to spread the light homogenously into space, without any multi-shadow effect.
Standardly available with reflector accessory –  whether white painted or made of high reflective anodised aluminium.
Luminaire is designed for mounting on solid surface, for suspended installation but also for installation into three-circuit lighting tracks (through the use of adapters).
INSTALLATION TYPE
• SUR – surface mounted installation
• SUS – suspended installation
• TRC – installation into (one or three-circuit) lighting track (Global, Eutrac)
OPTICAL SYSTEM
• RWS – reflector white symmetric
• RWS/RSS – high efficient reflector made of anodised aluminium inserted into outer steel reflector
ELECTRICAL EQUIPMENT
• linear LED module fixed on aluminium mounting plate
• electronic LED driver
• adapter for mounting into the lighting track (optional)
OPTIONAL EQUIPMENT
• wiring with emergency unit (1 or 3h)
• wiring with dimmable electronic control gear (DSI, DALI)
• black colour finish
• suspensions
SPECIFICATION

| | | | | | | |
| --- | --- | --- | --- | --- | --- | --- |
| Type* | System power (W) | Equivalent | A/X (mm) | B (mm) | H (mm) | kg |
| ROD LED 3500lm | 32 | 1x54W T8 | 1440/1200 | 113 | 72 | 2,6 |
| ROD LED 4300lm | 40 | 1x80W T8 | 1440/1200 | 113 | 72 | 2,6 |
*net lumen output of the luminaire by 4000K
| | |
| --- | --- |
| Code | Type |
| RL000000LE03500 | ROD LED 3500lm |
| RL000000LE04300 | ROD LED 4300lm |
| | | | | | | | | | | |
| --- | --- | --- | --- | --- | --- | --- | --- | --- | --- | --- |
| CCT |   | Optics |   | CRI |   | Control gear |   | Colour |   | Accessories |
|   |   |   |   |   |   |   |   |   |   |   |
| 3000K |   | RWS |   | 80 |   | ECG |   | biela |   | M1h |
| 4000K |   | RWS/RSS |   | 90 |   | DALI |   | čierna |   | M3h |
| 6500K |   |   |   |   |   | DIM 1-10V |   |   |   | TRC |
| Tunable White |   |   |   |   |   | DSI |   |   |   | SUS |
| (3000K-6000K) |   |   |   |   |   |   |   |   |   |   |