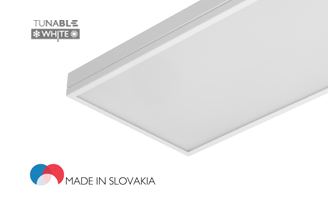 A little piece of sky for office environments
Comprehensive range of LED luminaires designed primary for efficient office lighting consist of surface mounted and suspended versions. Both versions could be executed whether as luminaires with direct lighting characteristics only, or also with small part of indirect light distribution for brighter ceiling appearance.
Pragmatical functional design with clean lines could be easily adapted in any type of interior arrangement, luminaire´s low profile stand out especially by suspended version.