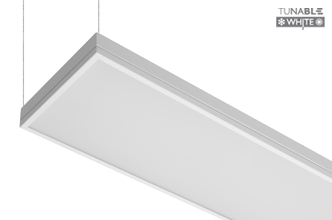 Suspended luminaire with high efficient LED modules, primary designed for energy efficient illumination of office areas. Optical system created by microprismatic diffuser provides pleasant diffuse and glare-free lighting characteristics.
Luminaire housing and frame holding the optics are both made of 0,8mm sheet steel, powder coated. Corners of housing and frame are laser welded without any visible joints. Visible width of bottom frame only 12mm.
Luminaire designed for suspended installation is available in two lengths as pure direct, or direct/indirect version. Standardly supplied with 4 single suspensions and 1,5m long transparent supply cable 3(5)x0,75mm2. Removable bottom frame attached to the housing with screws – possible future upgrade of LED technology.
INSTALLATION TYPE
• SUS – suspended LED luminaire
OPTICAL SYSTEM
• DMP – microprismatic diffuser with pyramidal structure, PMMA. Diffuser is completed with special light diffuse film
   for even homogenous appearance of bottom part of the luminaire.
   Third layer (on request) – cover layer made of antireflect plastic sheet. Makes bottom of the luminaire smooth and prevents
   the accumulation of dust. Gleamless finish, no disturbing reflections. Very easy to clean.
ELECTRICAL EQUIPMENT
• LED modules fixed at the bottom of luminaire housing
• electronic LED driver 
• terminal block with strain relief, max. 2,5mm2 
OPTIONAL EQUIPMENT
• HNT 05 – adjustable Y suspensions (two fixing points)
• wiring with emergency unit (1 or 3h)
• wiring with dimmable electronic control gear (DSI, DALI)
• various colour finishing
 • supply cable with other length then 1,5m or bigger cross-section then 0,75mm2
• tunable white version (3000-6000K)
• high colour rendering index (CRI>90)
• 3-layer optical system
SPECIFICATION

T

ype*

System power (W)

Equivalent

A/X (mm)

B (mm)

H (mm)

kg

SKY SUS 11 LED 3650lm
36
2x28W T5
1110/1030
300
64/53
7,3
SKY SUS 11 LED 4330lm
43
2x35W T5
1110/1030
300
64/53
7,3
SKY SUS 11 LED 5050lm
51
2x49W T5
1110/1030
300
64/53
7,3
SKY SUS 14 LED 4560lm
43
2x35W T5
1360/ 1280
300
64/53
9,1
SKY SUS 14 LED 5400lm
53
2x49W T5
1360/ 1280
300
64/53
9,1
SKY SUS 14 LED 6310lm
63
2x54W T5
1360/ 1280
300
64/53
9,1
*net lumen output of the luminaire by 4000K
| | |
| --- | --- |
| Code | Type |
| SKS11000LE03650 | SKY SUS 11 DIR LED 3650lm |
| SKS11001LE03650 | SKY SUS 11 DIR/INDIR LED 3650lm |
| SKS11000LE04330 | SKY SUS 11 DIR LED 4330lm |
| SKS11001LE04330 | SKY SUS 11 DIR/INDIR LED 4330lm |
| SKS11000LE05050 | SKY SUS 11 DIR LED 5050lm |
| SKS11001LE05050 | SKY SUS 11 DIR/INDIR LED 5050lm |
| SKS14000LE04560 | SKY SUS 14 DIR LED 4560lm |
| SKS14001LE04560 | SKY SUS 14 DIR/INDIR LED 4560lm |
| SKS14000LE05400 | SKY SUS 14 DIR LED 5400lm |
| SKS14001LE05400 | SKY SUS 14 DIR/INDIR LED 5400lm |
| SKS14000LE06310 | SKY SUS 14 DIR LED 6310lm |
| SKS14001LE06310 | SKY SUS 14 DIR/INDIR LED 6310lm |
CCT

 

Optics

 

CRI

 

Control gear

 

Colour

 

Accessories

 
 
 
 
 
 
 
 
 
 
 
Tunable White
3000K – 6000K
 
DMP
 
80
 
ECG
 
white
 
3-layer optical system
3000K
 
DO
 
90
 
DALI
 
grey
 
M 1h
4000K
 
 
 
 
 
DSI
 
black
 
M 3h
5700K (on request)
 
 
 
 
 
 
 
 
 
HNT 05
 
 
 
 
 
 
 
 
 
 
wieland 3p
 
 
 
 
 
 
 
 
 
 
wieland 5p