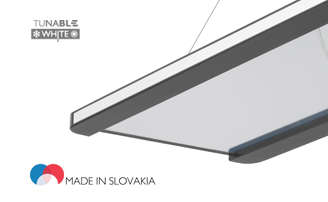 Innovative functionality in aesthetic transparent form.
Suspended luminaire in particularly flat design.
Fully transparent when switched off. Homogeneous, glare-free illumination. The innovative light guide technology decouples light which is fed into the sheet from the sides across the illuminated area.
The light is distributed indirectly towards the ceiling (45%) and directly down towards the work plane (55%), providing the ambient and task lighting levels required for good office illumination.
Absence of a ceiling mounted gear box complete the minimalistic desig of the lighting installation.