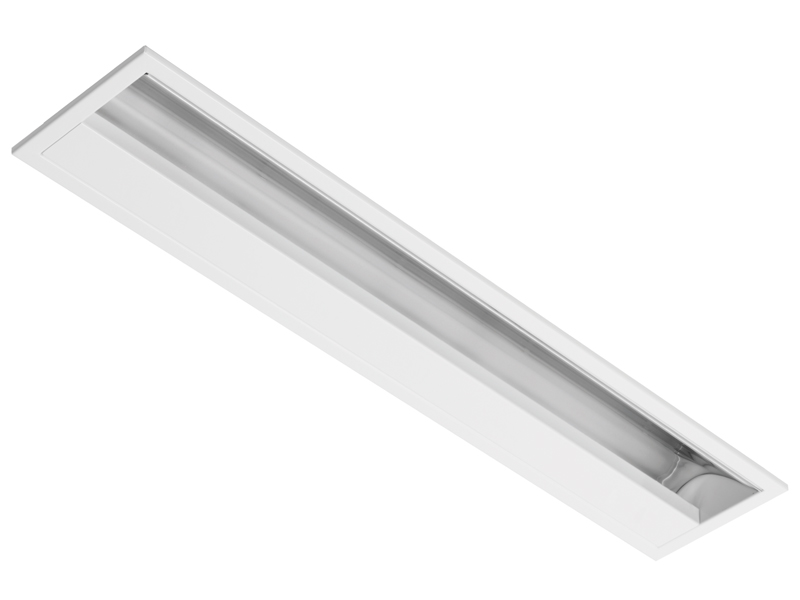 LED wall washer for even vertical illumination, constructed for linear LED modules. Illuminating of vertical surfaces means complementary lighting to the general lighting (horizontal) – such kind, that enhance impression of illuminated area, emphasize architecture, intensify spatial perception. In specific cases it could serve as a main tool of lighting design, that has not only architectural, but also purely functional character. Designed for recessed installation into T grid ceilings or direct mounting on solid surface.
Luminaire housing made of 0,6mm sheet steel, white powder coated finish (RAL9003).
High efficient linear LED module fixed on internal aluminium heat sink.
 
INSTALLATION TYPE
• RT600 – recessed luminaire, ceiling with exposed grids, module size 600×600
• SUR – surface mounted luminaire
OPTICAL SYSTEM
• RMA – asymmetrical reflector made of high reflective matt anodised aluminium.
   Microsatinated opal diffuser inside mix the light from single LEDs
   and prevents hot spot images on reflector surface.
   Asymmetrical light distribution for lighting of vertical surfaces.
ELECTRICAL EQUIPMENT
• 1 or 2xLED module
• electronic LED driver
• terminal block with strain relief, max. 2,5mm
OPTIONAL EQUIPMENT
• LED modules with extra higch colour rendering index CRI>90
• tunable white version (3000-6000K)
• wired with emergency unit (1 or 3h)
• wired with dimmable LED driver (DIM 1-10V, DSI or DALI)
• fast connectors (Wieland, Isodom)
• through wiring
SPECIFICATION

| | | | | | | |
| --- | --- | --- | --- | --- | --- | --- |
| Type* | System power (W) | Equivalent | A (mm) | B (mm) | H (mm) | kg |
| BASIC LED ASYM RT600 1600lm | 22 | 24W T5 | 595 | 125 | 69 |  1,7 |
| BASIC LED ASYM RT600 2700lm | 34 | 54W T5 | 1195 | 125 | 69 | 3,4 |
* net lumen output of the luminaire by 4000K
| | |
| --- | --- |
| Code | Type |
| BL30RT60LE01600 | BASIC LED ASYM RT600 1600lm |
| BL30RT60LE02700 | BASIC LED ASYM RT600 2700lm |
| | | | | | | | | | | |
| --- | --- | --- | --- | --- | --- | --- | --- | --- | --- | --- |
| CCT | | Optics | | CRI | | Control Gear | | Colour | | Accessories |
| | | | | | | | | | | |
| 3000K | | RMA | | 80 | | ECG | | RAL 9003 | | M 3h |
| 4000K | | | | 90 | | DIM 1-10V | | | | Wieland |
| 5000K | | | | | | DSI | | | | Wago |
| Tunable White (300K-600K) | | | | | | DALI | | | | Isodom |