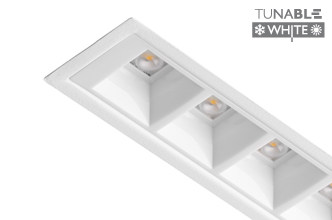 The range consists of four different sizes. Luminaire housing is made of sheet steel, finished with matt white powder coated colour (RAL9003). LED boards are mounted on aluminium heat sink. Extremely quick and reliable fixation into ceilings of different thickness by two strong steel springs.
Optical system created by combination of glare eliminating reflectors and highly efficient lenses is designed for premium class office or retail lighting. Thanks to the dark light effect, the light sources are invisible from almost all angles making glare close to non-existent. UGR<16.
External driver with cable clamps. Lumen output is possible to define individually to suit specific needs of existing application.
INSTALLATION TYPE
• R – luminaire recessed into various types of false ceilings such as plasterboard, ceiling tiles, wooden ceiling and similar
OPTICAL SYSTEM
Discreet low glare solution combines square reflector elements
and internal lenses for glare-free light. Optical system is made of
PC/ABS, available in piano black, white or silver finish. Internal lenses
made of PMMA. Suitable for VDU workstations: luminance of
light emitting area is in accordance with EN 12464-1.
• BL – black reflector
• WH – white reflector
• SI – silver reflector
• AS – asymmetrical beam

ELECTRICAL EQUIPMENT
• LED modules fixed on internal aluminium mounting plate
• external compact electronic LED driver
• terminal block covered with cable clamps, max. 1,5mm2

OPTIONAL EQUIPMENT
• wireless controllable with a Android / iOS smart device
• wiring with emergency unit (1 or 3h)
• wiring with dimmable electronic control gear
• supply cable with Wieland connector
SPECIFICATION

| | | | | | |
| --- | --- | --- | --- | --- | --- |
| Type | System power (W)* | A/X (mm) | B/Y (mm) | H (mm) | kg |
| ORB EVO 1×4 620lm | 5 | 196 / 181 | 57 / 43 | 42 | 0,2 |
| ORB EVO 2×4 1240lm | 10 | 196 / 181 | 97 / 83 | 42 | 0,3 |
| ORB EVO 3×4 1860lm | 15 | 196 / 181 | 137 / 123 | 42 | 0,4 |
| ORB EVO 4×4 2480lm | 20 | 196 / 181 | 177 / 181 | 42 | 0,5 |
*CCT 4000K
| | |
| --- | --- |
| Code | Type |
| OE140R00LE00620 | ORB EVO 1×4 620lm |
| OE240R00LE01240 | ORB EVO 2×4 1240lm |
| OE340R00LE01860 | ORB EVO 3×4 1860lm |
| OE440R00LE02480 | ORB EVO 4×4 2480lm |
CCT

 

Optics

 

CRI

 

Control gear

 

Colour

 

Accessories

 
 
 
 
 
 
 
 
 
 
 
Tunable-White
 
BL
 
80
 
ECG
 
 
 
M1h
2700-6500K
 
WH
 
 
 
DALI
 
 
 
M3h
3000K
 
SI
 
 
 
DIM 1-10V
 
 
 
 
4000K
 
 
 
 
 
DSI