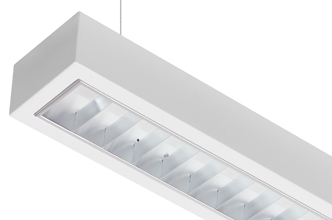 LED luminaire with direct/indirect light distribution. The balanced wide indirect radiation throws light reflected from the ceiling back to the room and in combination with downward direct lighting provides harmonic distribution of brightness within a room space.
Luminaire is equipped with double parabolic louvre made of anodised aluminium, suitable for VDU workstations (max. luminance of light emitting area is in accordance with EN 12464-1). Luminaire housing made of 0,6mm sheet steel, white powder coated finish (RAL9003). Another material of louvre or another surface finish available on request. Luminaire is designed for suspended installation.
BOXY LED DIR/INDIR could be optionally equipped with two independent drivers, thus enabling independent control of direct and indirect part of luminous flux distribution.
INSTALLATION TYPE
• SUS – suspended luminaire
OPTICAL SYSTEM
• PSL (parabolic specular louvre) – polished, anodized aluminium, double parabolic louvre with glare prevention
• PML (parabolic matt louvre) – matt, anodized aluminium, double parabolic louvre
• louvre attached to the housing with fast-mounting springs
• DO – bended opal diffuser for wide spread of indirect light designed especially for uplighting and indirect illumination
ELECTRICAL EQUIPMENT
• last generation linear LED modules fixed on two separate aluminium mounting plates
• one or two electronic LED drivers
• 3 or 5-pole screwless terminal block with strain relief, max. 2,5mm2
• cable opening entry completed with cable gland
• possibility of mounting into one continuous lighting row
OPTIONAL EQUIPMENT
• wired with emergency unit (1 or 3h)
• wired with dimmable electronic control gear (DIM 1-10V, DSI, DALI)
• various colour finishing
SPECIFICATION

| | | | | | | |
| --- | --- | --- | --- | --- | --- | --- |
| Type* | System power (W) | Equivalent | A/X (mm) | B (mm) | H (mm) | kg |
| BOXY LED 12 DIR/INDIR 1C 5745lm | 52 | 2x28W T5 | 1203/1100 | 120 | 75 | 3,6 |
| BOXY LED 12 DIR/INDIR 2C 6310lm | 58 | 2x54W T5 | 1203/1100 | 120 | 75 | 3,6 |
| BOXY LED 15 DIR/INDIR 2C 8200lm | 75 | 2x49W T5 | 1483/1400 | 120 | 75 | 4,7 |
*net lumen uotput of the luminaire by 4000K
  1C – one circuit DIR+INDIR
  2C – two circuits, separate control of DIR and INDIR part
| | |
| --- | --- |
| Code | Type |
| BE011C00LE05745 | BOXY LED 12 DIR/INDIR 1C 5745lm |
| BE012C00LE06310 | BOXY LED 12 DIR/INDIR 2C 6310lm |
| BE112C00LE08200 | BOXY LED 15 DIR/INDIR 2C 8200lm |
CCT

 

Optics

 

CRI

 

Control gear

 

Colour

 

Accessories

 
 
 
 
 
 
 
 
 
 
 
4000K
 
PML
 
80
 
ECG
 
white
 
M1h
3000K
 
PSL
 
90
 
DIM 1-10V
 
black
 
M3h
6500K
 
 
 
 
 
DSI
 
grey
 
 
 
 
 
 
 
 
DALI