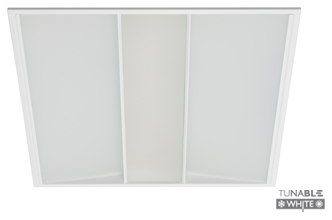 Recessed luminaire for ceilings with exposed grids, module size 600×600.
Enclosed optical system. Direct light distribution. Suitable for VDU workstations: luminance of light emitting area is in accordance with EN 12464-1, value UGR<19.
Gradual brightness transition from the centre to the borders of luminaire soften the contrast between the luminaire and surrounding ceiling.
Internal white painted reflectors with high portion of diffuse reflection minimalize light losses inside the fixture.
Luminaire housing and frame made of 0,6mm sheet steel, white powder coated finish (RAL9003). The central microprismatic diffuser has a computer optimalized pyramidal structure, which accurately redirect luminous flux to the requested direction. 

SATIN en (1MB)
INSTALLATION TYPE
• RT600 – recessed luminaire, ceiling with exposed grids, module size 600×600
• installation in to another ceiling types on request
OPTICAL SYSTEM
• DMP/DO – central microprismatic diffuser made of PMMA, semi-wide beam angle, increased glare prevention from the side view.
   Side opal diffusers made of fine structured polycarbonate with high light transmission, increased portion of diffuse light.
ELECTRICAL EQUIPMENT
• 4xLED module fixed on aluminium heat sink
• electronic LED driver
• terminal block with strain relief, max. 2,5mm2
OPTIONAL EQUIPMENT
• wiring with emergency unit (1 or 3h)
• wiring with dimmable LED driver (DSI, DALI)
• various colour finishing
• fast connectors (Wieland, Wago, Isodom)
• motion/daylight sensor directly integrated in the housing
SPECIFICATION

| | | | | | | |
| --- | --- | --- | --- | --- | --- | --- |
| Type* | System power (W) | Equivalent | A (mm) | B (mm) | H (mm) | kg |
| SATIN RT600 LED 3700lm | 36 | 4x14W T5/ 1x55W TC-L | 595 | 595 | 102 |  5,2 |
| SATIN 12×3 RT600 LED 3700lm | 36 | 2x28W T5 | 1195 | 295 | 84 | 5,1 |
*net lumen output of the luminaire by 4000K
| | |
| --- | --- |
| Code | Type |
| SA00RT60LE03700 | SATIN RT600 LED 3700lm |
| SA01RT60LE03700 | SATIN 12×3 RT600 LED 3700lm |
| | | | | | | | | | | |
| --- | --- | --- | --- | --- | --- | --- | --- | --- | --- | --- |
| CCT |   | Optics |   | CRI |   | Control gear |   | Colour |   | Accessories |
|   |   |   |   |   |   |   |   |   |   |   |
| 3000K |   | DMP/DO |   | 80 |   | ECG |   | RAL 9003 |   | M1h |
| 4000K |   |   |   | 90 |   | DIM 1-10V |   |   |   | M3h |
| Tunable White |   |   |   |   |   | DSI |   |   |   | Wieland |
| (3000K-6000K) |   |   |   |   |   | DALI |   |   |   | Isodom |