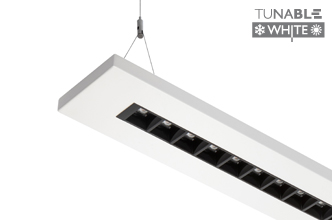 Suspended LED luminaire for premium class office lighting with direct/indirect light distribution. The balanced wide indirect radiation throws light reflected from the ceiling back to the room and in combination with downward lighting provides harmonic distribution of brightness within a room space.
Luminaire housing made of 0,6mm sheet steel, white powder coated finish (RAL9003). Upper part of the luminaire made of 1mm aluminium plate, that serves as passive heat sink for employed LED modules.
Increased protection of the optical part against dirt (IP40). Dark Light concept with UGR <16.
 
NIMBUS DIR/INDIR could be optionally equipped with two independent drivers, thus enabling independent control of direct and indirect part of luminous flux distribution.
INSTALLATION TYPE
• SUS – suspended luminaire
OPTICAL SYSTEM
Discreet low glare solution combines square reflector elements and internal lenses for glare-free light.
Optical system is made of PC/ABS, available in piano black, white or silver finish. Internal lenses made of PMMA.
Suitable for VDU workstations: luminance of light emitting area is in accordance with EN 12464-1.
• BL – black
• WH – white
• SI – silver
• AS – asymmetrical beam

ELECTRICAL EQUIPMENT
• linear LED modules fixed on aluminium tray, PCB assembled with 2835 size Samsung LM281B+ mid power LED chips
• integrated electronic LED driver
• 3 or 5-pole screwless terminal block with strain relief, max. 2,5mm2
• cable opening entry completed with cable gland

OPTIONAL EQUIPMENT
• wired with emergency unit (1 or 3h)
• wired with dimmable electronic control gear (DIM 1-10V, DSI, DALI)
• various colour finishing
• motion/daylight sensor
SPECIFICATION

| | | | | | | |
| --- | --- | --- | --- | --- | --- | --- |
| Type* | System power (W) | Equivalent | A (mm) | B (mm) | X (mm) | kg |
| NIMBUS DIR/INDIR 1C 6220lm | 51 | 2x54W T5 | 1268 | 125 | 1126 | 3,8 |
| NIMBUS DIR/INDIR 2C 6220lm | 51 | 2x54W T5 | 1268 | 125 | 1126 | 3,8 |
*net lumen uotput of the luminaire by 4000K
 
1C – one circuit DIR+INDIR
2C – two circuits, separate control of DIR and INDIR part
| | |
| --- | --- |
| Code | Type |
| NI21SUS0LE 06220 | NIMBUS DIR/INDIR 1C 6220lm |
| NI22SUS0LE06220 | NIMBUS DIR/INDIR 2C 6220lm |
| | | | | | | | | | | |
| --- | --- | --- | --- | --- | --- | --- | --- | --- | --- | --- |
| CCT |   | Optics |   | CRI |   | Control gear |   | Colour |   | Accessories |
|   |   |   |   |   |   |   |   |   |   |   |
| 4000K |   | BL |   | 80 |   | ECG |   | RAL 9003 |   | M 1h |
| 3000K |   | WH |   | 90 |   | DIM 1-10V |   | RAL 9005 |   | M 3h |
| 2700-6500K |   | SI |   |   |   | DSI |   | RAL 9006 |   | motion/daylight sensor |
|   |   |   |   |   |   | DALI |   |  RAL 9007 |   |   |