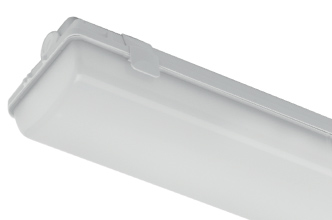 Industrial luminaire produced in two lengths, equipped with last generation LED modules. Luminaire housing is made of flame retardant glass-fibre reinforced polyester. Opal diffuser made of UV stabilized PMMA. Mounting plate made of massive aluminium sheet, that serves at the same time as a passive heat sink for LED modules. Optimized thermal management. Mounting plate is removable, that allows to perform later intergenerational exchange of LED modules, without necessity for renewal of whole luminaire. Housing and diffuser are connected by plastic or anticor clips. Injected polyurethan sealing secures high ingress protection.

 JET LED (1MB)
INSTALLATION TYPE
• SUR – surface mounted installation
• SUS – suspended installation
OPTICAL SYSTEM
• DO –opal diffuser made of UV stabilized PMMA, specially developed for LED applications, with outstanding light transmissivity
   (90%). Diffuser excel in perfect hiding capability of light radiated from single LEDs, without visible hot spots.
   Diffuse light distribution without hard shadows.
ELECTRICAL EQUIPMENT
• linear LED module
• 3-pole screwless terminal block, max. 2,5mm2
• cable opening entry completed with cable gland
• through wiring possibility
OPTIONAL EQUIPMENT
• wiring with dimmable control gear
• wiring with emergency unit (1 or 3h)
• HJ01 – chain suspension
• CSJ – anticor clips
• PSJ – protective grid
• PG13,5 – cable gland
• WIELAND – fast electrical IP65 connector
• CWJ – through wiring
SPECIFICATION

| | | | | | | |
| --- | --- | --- | --- | --- | --- | --- |
| Type | System power   (W) | Equivalent | A (mm) | B/C (mm) | D (mm) | kg |
| JET LED 3900lm | 28 | 1x58W T8 | 1277 | 800/700 | 476 | 2,4 |
| JET LED 4950lm | 37 | 2x36W T8 | 1277 | 800/700 | 476 | 2,4 |
| JET LED 6300lm | 47 | 2x58W T8 | 1577 | 1100/1000 | 476 | 3,2 |
*net lumen output of the luminaire by 4000K
| | |
| --- | --- |
| Code | Type |
| JE000000LE03900 | JET LED 3900lm |
| JE000000LE04950 | JET LED 4950lm |
| JE000000LE06300 | JET LED 6300lm |
| | | | | | | | | | | |
| --- | --- | --- | --- | --- | --- | --- | --- | --- | --- | --- |
| CCT |   | Optics |   | CRI |   | Control gear |   | Accessories |   | Accessories |
|   |   |   |   |   |   |   |   |   |   |   |
| 3000K |   |   |   | 80 |   | ECG |   | M 1h |   | HJ01 |
| 4000K |   |   |   |   |   | TouchDIM |   | M 3h |   | CSJ |
| 5000K |   |   |   |   |   | DALI |   |   |   | PSJ |
|   |   |   |   |   |   |   |   |   |   | PG 13,5 |
|   |   |   |   |   |   |   |   |   |   | WIELAND |
|   |   |   |   |   |   |   |   |   |   | CWJ |