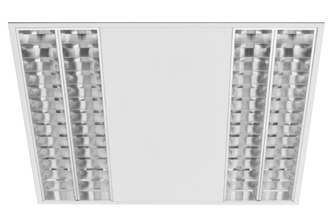 Recessed luminaire for T5 lamps. Direct light distribution. Available with different optical systems. Equipped with polished, high efficient double parabolic louvre made of anodized aluminium, suitable for workplaces with display screen units (luminance of light emitting  area is in compliance with EN 12464-1).
The louvre is fixed to housing with quick clamping springs. Housing of luminaire is made of sheet steel of thickness 0,6mm, bottom cover made of solid or perforated sheet (marking -P). Standard surface treatment – white powder coated colour (RAL 9003).
Other execution of the louvre and other surface treatment is possible on request.
INSTALLATION TYPE
• RT600 (recessed) – recessed luminaire, ceiling with visible T-profile, module 600×600
OPTICAL SYSTEM
• PSL (parabolic specular louvre) – polished, anodized, aluminium, double parabolic louvre with glare prevention
• PML (parabolic matt louvre) – matt, anodized, aluminium, double parabolic louvre 
ELECTRICAL EQUIPMENT
• electronic control gear for one/two linear fluorescent lamps T5
• lamp holders G5
• 3-pole screwless terminal block with strain relief, max. 2,5mm2
• cable opening entry completed with cable gland
• through wiring possibility
OPTIONAL EQUIPMENT / ACCESSORIES
• lamps included in luminaire
• wired with multi-watt control gear
• wired with emergency unit (1 or 3h)
• wired with dimmable control gear (DIM 1-10V, DSI or DALI)
• components for fast electrical connection (Wieland, Wago, Isodom)
SPECIFICATION

| | | | | |
| --- | --- | --- | --- | --- |
| Type | A (mm) | B (mm) | H (mm) | kg |
| BASIC II 2x2L RT600 T5 4x14W | 595 | 595 | 69 |   |
| BASIC II 2x2L RT600 T5 4x24W | 595 | 595 | 69 |   |
| BASIC II 2x2L-P RT600 T5 4x14W | 595 | 595 | 69 |   |
| BASIC II 2x2L-P RT600 T5 4x24W | 595 | 595 | 69 |   |
| | |
| --- | --- |
| Code | Type |
| BA50RT600T54014 | BASIC II 2x2L RT600 T5 4x14W |
| BA50RT600T54024 | BASIC II 2x2L RT600 T5 4x24W |
| BA5PRT600T54014 | BASIC II 2x2L-P RT600 T5 4x14W |
| BA5PRT600T54024 | BASIC II 2x2L-P RT600 T5 4x24W |
Control gear

 

Optics

 

Colour

 

Lamp

 

Emergency unit

 

Accessories

 
 
 
 
 
 
 
 
 
 
 
ECG
 
PSL
 
RAL 9003
 
14W/827
 
M 3h
 
Wieland 3p
ECG-MULTI
 
PML
 
 
 
14W/830
 
 
 
Wago  3p
DIM 1-10V
 
 
 
 
 
14W/835
 
 
 
Isodom
DSI
 
 
 
 
 
14W/840
 
 
 
 
DALI
 
 
 
 
 
14W/865
 
 
 
 
 
 
 
 
 
 
24W/827
 
 
 
 
 
 
 
 
 
 
24W/830
 
 
 
 
 
 
 
 
 
 
24W/835
 
 
 
 
 
 
 
 
 
 
24W/840
 
 
 
 
 
 
 
 
 
 
24W/865
 
 
 
 
 
 
 
 
 
 
24W/880
 
 
 
 
 
 
 
 
 
 
24W/940
 
 
 
 
 
 
 
 
 
 
24W/965