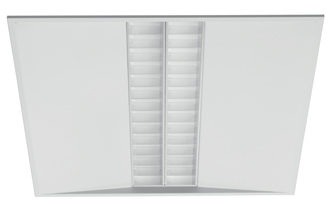 Recessed luminaire for ceilings with exposed grids, module size 600×600, 625×625 or plasterboard ceilings.
Luminaire housing made of 0,6mm sheet steel, white powder coated finish (RAL9003). Upper part of the luminaire made of aluminium plate, that serves as passive heat sink for employed LED modules. Increased protection of the optical part against dirt (IP40).
Double parabolic LED louvre made of matt anodized aluminium. High level of prevention against glare, UGR<19. 
INSTALLATION TYPE
• RT600 – recessed luminaire, ceiling with exposed grids, module size 600×600
• RT625 – recessed luminaire, ceiling with exposed grids, module size 625×625
• R – recessed luminaire, plasterboard ceiling
OPTICAL SYSTEM
• PML – double parabolic LED louvre made of matt anodized aluminium
ELECTRICAL EQUIPMENT
• 2xLED module fixed at the bottom of luminaire housing
• electronic LED driver
• terminal block with strain relief, max. 2,5mm2
OPTIONAL EQUIPMENT
• wiring with emergency unit (1 or 3h)
• wiring with dimmable electronic control gear (DSI, DALI)
• various colour finishing
• fast connectors (Wieland, Wago, Isodom)
SPECIFICATION

| | | | | | | |
| --- | --- | --- | --- | --- | --- | --- |
| Type* | System power (W) | Equivalent | A (mm) | B (mm) | H (mm) | kg |
| SPARTAN L RT600 LED 2100lm | 21 | 2x14W T5 | 595 | 595 | 80 |  3,6 |
| SPARTAN L RT600 LED 3700lm | 33 | 4x14W T5 | 595 | 595 | 80 | 3,6 |
*net lumen output of the luminaire by 4000K
| | |
| --- | --- |
| Code | Type |
| ST10RT60LE02100 | SPARTAN L RT600 LED 2100lm |
| ST10RT60LE03700 | SPARTAN L RT600 LED 3700lm |
CCT

Optics

CRI

Control gear

Colour

Accessories

3000K
PML
80
ECG
M 3h
4000K
DALI